In recent years, there has been an increasing number of Australian businesses adopting a philosophy and associated practices referred to as Activity Based Working (ABW). And while the benefits were initially to save and utilise office space more effectively, there has not been conclusive evidence to prove the benefits of adopting this model – until now. A team at the University of Sydney has reviewed 17 studies involving 36,039 participants to determine the positive and negative effects of ABW, the results of which support our own experience.

Open technology enabled collaboration spaces can be used for individual concentrated work or group collaboration.
Firstly, what is Activity Based Working? It's defined by Leesman, (the pioneer company for turning workplace data into insights to make evidence-based choices to develop workplace strategies.) as, 'a transformational business strategy, not a workplace strategy. ABW provides employees with purposefully designed settings to best support the many different activities undertaken in a workplace.'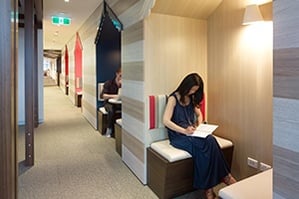 An ABW environment is more than just an open plan office, it provides employees with multiple areas to perform a variety of tasks and gives them the freedom to choose where they will perform these tasks. These areas could include nooks under the stairs for quiet, concentrated work, small quiet rooms or phone booths, to more open spaces with Wi-Fi, TV's or projectors for more collaborative group work.
Also, ABW should not be confused with an agile work environment, in our blog 'Towards 2020 – Workplace Predictions,' the difference between the two is explained as:
ABW
Focuses on the individual's workstyles and needs and creates multiple work settings for a variety of specific tasks.
Optimises the use of available space.
Agile
Focuses on the team's needs and designing a workplace to meet those needs.
Brings people from different teams together to increase productivity and reduce the time taken to assemble and disassemble project teams.
While ABW has been around for some time, it's still not a mainstream concept for many workplaces, with most offices assuming designated offices or a combination of offices and open plan with allocated desks is the only approach to office design. However, that's set to change with the future of work in Australia embracing ABW, 'with sources suggesting two thirds of Australian organisations will have adopted Activity Based Working (ABW) by 2020.1
What the Evidence Says

Open areas with TV's/Wi-Fi support cross department collaboration.
The University of Sydney recently compared 17 studies involving 36,039 participants to determine the positive and negative effects of utilising an ABW environment.
The studies varied in rigorousness from qualitative studies to pre–post-trials with sample sizes ranging from 12 to 11,799. The settings were offices with some ABW/agile environments, corporate sector, universities and the public sector. The studies originated from Australia, Sweden, UK and the Netherlands.2
The Positives

Multiple collaboration areas allow employees to choose how they wish to work.
The university findings concluded that an Activity Based Working model has the following benefits:
Opens lines of communication
Increases interaction
Increases collaboration across teams/departments
Further to these findings, a recent article by Insight tells us that Australia is leading the way in Activity Based Working, and corporate banks have been early adopters of this model. The article goes on to say while initially moving to AWB was a cost-saving exercise it's now seen to improve and transform workplace culture.3
The Negatives
The university findings concluded that as with any open-plan office, workers found it hard to concentrate in an ABW environment and were often distracted or interrupted. The university went on to say there were also privacy issues where workers weren't comfortable with others overhearing conversations or seeing their computer screen.
The Recommendations
The university findings state that one size doesn't fit all, meaning you should look at a tailored approach to AWB. From our experience we believe it's important to understand your organisation's needs from the bottom up as well as the various work styles of your employees. Our approach looks at an organisation's current performance gaps as well as what works well, to design a workplace that meets your current needs and gives the flexibility to change as your business grows.
Another recommendation from the university findings we agree with is to take a slow approach in the move to full ABW. We have worked on hybrid designs for many clients which use a combination of allocated desk and multiple collaboration areas and have the flexibility to move to a full agile workplace if required in the future. By transforming your workplace, you'll be on the way to improving your corporate culture and having highly engaged employees. However, a new workplace can't do it alone; employees need to embrace a change to AWB to indeed see the benefits and be satisfied with their new environment.
If you have any questions on ABW or moving your organisation to an ABW or agile work environment, please don't hesitate to contact us.
For more information download our free whitepaper, 'The Genesis of Activity Based Working'
You May Also Like:
Acknowledgements
1. Max Luff 2018, Insight, 'Australia is leading the world in the adoption of activity based working.' Viewed May 2018 <http://workplaceinsight.net/australia-leading-world-adoption-activity-based-working/>.
2. Dr Lina Engelen, 2018, The Fifth State 2018, 'The Evidence is in on Activity Based Working.' University of Sydney's School of Public Health. Viewed May 2018 <https://www.thefifthestate.com.au/columns/spinifex/the-evidence-is-in-on-activity-based-working/98709?mc_cid=42482b23a7&mc_eid=a16782b360>.
3. Max Luff 2018, Insight, 'Australia is leading the world in the adoption of activity based working.' Viewed May 2018 <http://workplaceinsight.net/australia-leading-world-adoption-activity-based-working/>.
Leesman 2016, Activity Based Working, 'The Rise and Rise of ABW: Reshaping the physical, virtual and behavioural workspace.' Viewed May 2018
Leesman, 'The Rise and Rise of Activity Based Working Research Book.' Viewed May 2018 .