The terms artificial intelligence (AI), virtual reality (VR) and augmented reality (AR) have been used in the media a lot in recent months with big companies such as Facebook, Google and Amazon all heavily investing in these technologies but how will this affect your workplace?
We've outlined each of these technologies and the benefits your workplace could realise by introducing them into your latest office design.
What is Artificial Intelligence (AI)?


There are two definitions of AI being used by companies like Google and Amazon today, Forbes states, 'a true artificially-intelligent system is one that can learn on its own. Neural networks like Google's DeepMind can make connections and reach meanings without relying on pre-defined behavioural algorithms. True AI can improve on past iterations, getting smarter and more aware, allowing it to enhance its capabilities and its knowledge.'1
Whereas the AI that we're already familiar with is described as, 'AI systems that are merely advanced machine learning software with extensive behavioural algorithms that adapt themselves to our likes and dislikes.'2
Examples of AI you would be familiar with:
Siri

Alexa

Tesla cars

Amazon
What is Virtual Reality (VR) and Augmented Reality (AR)?

Inc. explains the difference between virtual reality (VR) and augmented reality (AR) by saying, 'both require similar devices to project or enhance what we already see and interact with — using wearables such as the Oculus Rift. However, not all augmented reality requires the use of wearables, an example being the game Pokémon Go. This is where computer-generated content is overlaid on a real-world environment.

Virtual Reality (VR) seems to have been around for some time, but with Facebook's ambitious plans to see a billion people in virtual reality, it's set to be the next big thing. 'Oculus (owned by Facebook) are already working with companies like Cisco and Audi to use its VR headsets in their workplaces.'4
Interesting Facts
Most of the investment in AI consists of internal R&D spending by large, cash-rich companies like Amazon, Baidu, and Google.5
In 2016 between $26 billion and $39 billion was invested in AI technology.6
It's estimated investments in AR and VR will increase from $5.2 billion in 2016 to $162 billion by 2020.7
Samsung is partnering with Google to bring augmented reality (AR) capabilities to its smartphones.8
How will VR and AR affect office design?
With the current trend for workplaces that support Activity Based Working (ABW) or provide multiple collaboration areas within an office, the use of VR and AR technology could result in a significant shift in the way an office is designed and the amount of space required.
A great point made by Inc. states, 'Coupling virtual reality desktops with modular stations and acoustic office furniture could help create the ideal working environment for both introverts and extroverts.'9
Reduce Office Space Requirements
With VR and AR technology the office space you currently occupy could be more than you need. Outfitting smaller conference spaces or nooks with VR reduces the need for a larger, fancier conference rooms. This could be useful if you don't have a lot of stakeholders visiting the company office and the room could be better suited for another purpose.10
The same applies to AR technology – as it combines physical and digital environments, colleagues and workplaces can be placed in a single room in real-time.11
Another way to save on office space is by using a VR desktop which eliminates the need for multiple computer screens. VR creates a visual space, so employees would be less prone to distractions and can create 3D presentations or reports which they could then share directly with colleagues located anywhere around the globe.12 An example of VR 3D technology is Google's Tilt Brush13 which lets people create vivid, colourful 3D sketches.14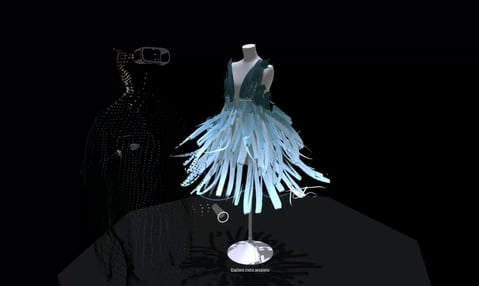 (Google Tilt Brush Image from www.paperfashion.com)
Collaboration Takes on New Meaning
This leads us to how VR and AR will transform team collaboration. In recent years we've seen a rise in employees working from home or needing to log in remotely when travelling which often causes a sense of isolation. 'VR conferences would eliminate this as people could sit next to a team member in a meeting despite that person residing on another continent.'15
Just like video conferencing technology used to hold meetings with colleagues or clients, VR meetings also have the benefit of showing facial expressions and body language.16 Plus, if your VR meeting has a whiteboard your VR/AR glasses can show you the notes from everyone who has contributed in the meeting, all combined into one shared whiteboard.17
Increase Productivity
'38% of US jobs will be automated by the early 2030s'18
That statistic is quite daunting, but AI doesn't necessarily mean job cuts, it can also help free up employees time to focus on more meaningful and relevant work. There are several ways AI can help improve productivity within an office environment.
Intelligent Virtual Assistants (like Apple's Siri, Microsoft's Cortana and Amazon's Echo) will soon be able to complete tasks a secretary would likely do such as take dictation, check your calendar and make calls. And they will continue to learn and adapt as they work with you.19
A company by the name of Zoom is working on AI which will eliminate the need for a meeting note taker. AI will convert all speech from a meeting into text and even identify each speaker.20
By using AI with current meeting room booking and calendar systems stolen meeting rooms or underutilised meeting rooms and tech tools will become a thing of the past.21
Training new employees using AI technology will see them become proficient faster and free up time that colleagues or managers would have spent on training and mentoring.22
If you're looking to redesign your office or move to a new office location, factoring in the use of VR, AR and AI technologies can only benefit your employees and your bottom line through cost savings made from reduced office space or better utilising your current office layout and increased productivity.
If you would like any further information on designing a new corporate workplace, please don't hesitate to contact us.
For more information on increasing productivity in the workplace download our free whitepaper, 'Your Road Map to a High Performance Workplace.'
You May Also Like:
Acknowledgements:
1. Forbes 2017, 10 powerful examples of artificial intelligence
2. Forbes 2017, 10 powerful examples of artificial intelligence
3. Inc. 2017, How to introduce virtual and augmented reality into your work plac
4. Business Insider 2017, How Facebook plans to get 1 billion people into virtual reality
5. McKinsey 2017, How artificial intelligence can deliver real value to companies
6. McKinsey 2017, How artificial intelligence can deliver real value to companies
7. Inc. 2017, How to introduce virtual and augmented reality into your work place
8. The CEO Magazine 2017, Samsung, Google enter augmented reality partnership
9. Inc. 2017, How to introduce virtual and augmented reality into your work place
10. Inc. 2017, How to introduce virtual and augmented reality into your work place
11. Bakker Elkhuizen, Tomorrow's office: Virtual and Augmented Reality
12. Inc. 2017, How to introduce virtual and augmented reality into your work place
13. Connect 2016, Tilt Brush by Google: A tool to get creativity flowing
14. Fast Company 2017, This is what your future virtual reality office will be like
15. Inc. 2017, How to introduce virtual and augmented reality into your work place
16. Bakker Elkhuizen, Tomorrow's office: Virtual and Augmented Reality
17. Fast Company 2017, This is what your future virtual reality office will be like
18. Daily Mail UK 2017, Watch out America, robots are coming for your jobs
19. Videocentric 2017, AI in the workplace: Alexa, take a seat in the video conference
20. Tech Crunch 2017, Zoom brings a dash of augmented reality and artificial intelligence to meetings
21. Fast Company 2017, This is what your future virtual reality office will be like
22. Training Zone 2017, How AI will improve corporate learning
23. Paper Fashion 2017, Google Tilt Brush