Today's office design trends are changing and an open plan design with a few quirky elements like beanbags in the corner are no longer enough to attract and retain the best talent. It's also no surprise that since co-working spaces like WeWork have become increasingly popular that corporate offices around the world are beginning to adopt similar designs and resemble a hotel, with reception areas combined with cafes, dining experiences as well as casual meeting areas. But will this new 'check-in and check-out' workplace design trend help increase productivity and really benefit your company?
'Hospitality has become a driving force in the office rental market. Along with conference rooms, gyms, end of trip facilities and with features that have long been associated with hotels, workplaces are also adding lounges, cafés, concierge services, game rooms and sleeping areas. In short, some workplaces now mirror hotels in the pursuit of making employees feel at home away from home while doing work away from work.'11
The change in this direction is said to encourage collaboration, with chatting over coffee or a meal giving a more human experience. This change in office design is a far cry from battery hen cubicles where employees sat at their allocated desk the entire day. The shift to this style of working is said to also be based on having a university campus look and feel which Millennials are accustomed to and now expect as they enter the workforce.
Inc.com states '64 percent of Millennials care about company perks and benefits (compared to 54 percent of Generation X and 51 percent of Baby Boomers). And "perks and benefits" are the No. 2 thing behind "culture and values" that Millennials want to know about a company.'22
A great example of a corporate workplace resembling a hotel is Hyatt's headquarters in Chicago.
Co. Design details how the office is modelled on the Hyatt's seven touch points of the hotel experience:
Arrival

Social spaces

Drinking and dining

Guest rooms which are 'work suites' at the corporate office

Activities

Services

Meetings/events
The 'work suites' which could be described as the workstation areas group teams together in pod style desks. There are also areas for casual meetings and private rooms and 192 small rooms for phone calls or meetings for up to five people.3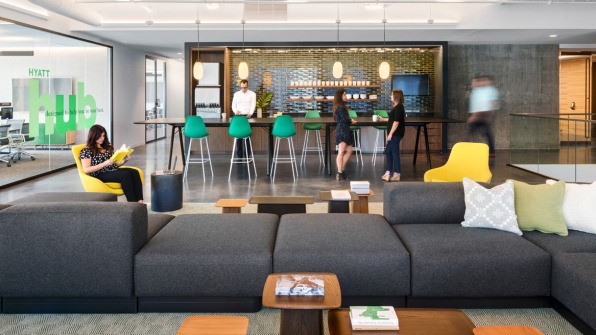 Photo: Co.Design – Rafael Gamo
The Benefits of a Hotel Based Office Design
Increased face to face interaction can speed up decision making

Interaction and collaboration between people and teams that wouldn't normally occur

Greater employee satisfaction

Increased productivity

Staff retention
'Pockets of informal seating, coffee bars and telephone nooks allow employees to step away from their desk to carry out a task in a specifically tailored environment, while also opening up the opportunity for chance encounters between members of staff.'4
Examples of Hotel Services in the Workplace
Concierge Services
These services can be anything from putting in your dry-cleaning to searching for the best deals in car insurance.
Wellness Programs
Many companies are offering a lot more than just an onsite gym with things like meditation rooms, free acupuncture and free full catered meals.
Shuttle Service
If an office is located outside the main CBD companies are offering free shuttles to ensure an easy commute for employees. Pepsi Co. in Toronto is one example.
Latest Technology5
Mobility and flexibility is a must for an office environment that resembles a hotel. Employees now want wireless charging and access to augmented reality AR and virtual reality VR technology.
Perks of the Job
Here are some other office perks we found that help keep staff engaged, healthy and productive.
Prudential Singapore: Staff can take a nap in a 'rest pod'6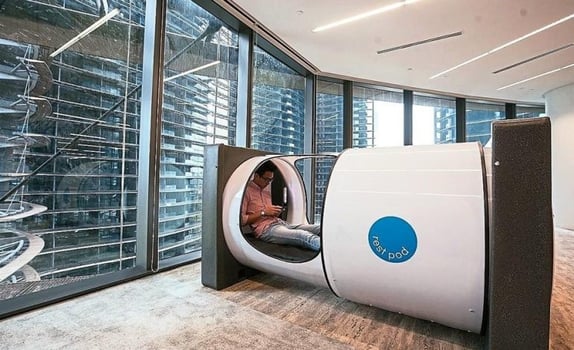 Photo: Star2.com - GAVIN FOO/Prudential Singapore/The Straits Times/Asia News Network

Google Mountain View California: Staff are provided lunch and dinner as well as oil changes, car washes, massages and yoga and $12K annually in tuition reimbursement.7
SC Johnson & Son: Staff enjoy concierge services including sending packages, flowers, picking up groceries, car services and oil changes and they even stand in line for concert tickets.8
World Wildlife Fund: Employees take Friday off every other week, also known as "Panda Fridays".9
Airbnb: Gives its employees an annual stipend of $2,000 to travel and stay in an Airbnb listing anywhere in the world.9
While it seems corporate workplaces must adapt, and offer all staff, not just Millennials multiple work settings that offer flexibility and mobility and cater to all workstyles. It's important to note before you move your company into space with a lounge room and a barista, it takes more than Millennial inspired design and benefits to create a productive workplace. From our experience, to truly improve your company's performance, culture and engagement levels, you must align the workplace dynamics of people (social), process (work) and place (environment) to leverage the potential of the workplace to contribute to business success.
For more information regarding office trends or if you would like a free consultation to discuss workplace design please don't hesitate to contact PCG.
For further details on creating a more productive workplace download our free whitepaper, 'Building a High-Performance Workplace.'
Acknowledgements
1. Real Estate Weekly, Kyle Campbell 'Offices Adopt Hotel Mentality as Extended Stay Becomes New Normal.' 2017
2. Ryan Jenkins, Inc.com, 'How to Attract Millennials with the Right Company Perks.'
3. Co.Design, 'Why Hyatt Designed Its New Headquarters To Feel Like Its Hotels,' 2017
4. Raconteur, 'Office spaces should be more like hotels or cafés.' 2016
5. Chargespot, 'Office Amenities Employees Want'
6. Star2, 'We Wouldn't Mind Working Overtime in these Offices,' 2017
7. Salary.com, '14 Companies with Incredible Employee Perks'
8. Salary.com, '14 Companies with Incredible Employee Perks'
9. Fast Company, 'These are the Best Employee Benefits and Perks,' 2016