All you need to know about planning the perfect workplace.
The opportunity to plan and develop a workplace perfectly suited to your business and employee needs generally occurs when you have an upcoming lease expiry or pressure on resources or space. Most companies then assume it's a simple process of viewing properties and having an agent make recommendations along the way. However, the reality is you need to understand the market conditions, analyse your business needs, plan and allow enough time to find the perfect fit for your business.
To help you achieve your goals we've outlined how to de-risk your new workplace project by taking the Master Plan approach.
The Traditional Approach to a Workplace Project

Traditionally when a business needs a new lease it engages in a property search using in-house skills or an external real estate agent. Once the property deal has been done, designs are drawn up and building works tendered. In this model, the real estate deal defines the design parameters and the time available for the construction of the workplace.
Meaning you're leaving yourself little time to plan the perfect workplace.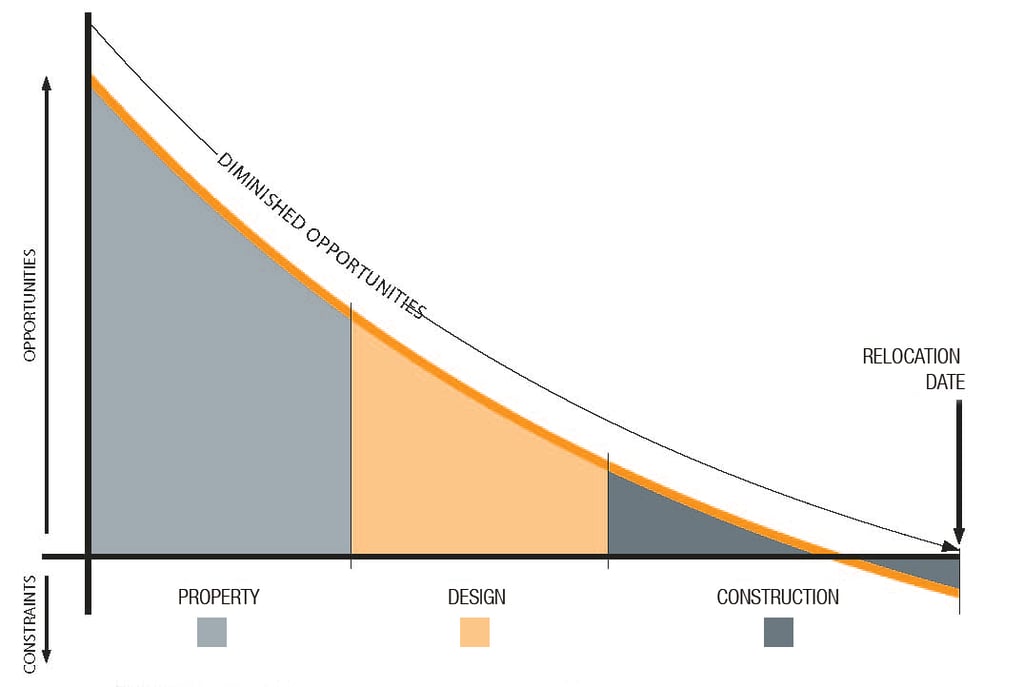 The graph above plots typical opportunities lost against time, when progressing through the traditional procurement phases from Property to Design and Construction.
The risk you will face with this approach are:
Property Risks
The property search and lease negotiation phase will be far longer and more complex than anticipated.
The tighter the market and the shorter the time to the end of the original lease, the more property options are eliminated, rents increase, and incentives decrease.

Most people aren't aware that agents are paid by landlords,

so they are obligated to look after the landlord's interests above your needs as the tenant. Your best option is to appoint an independent tenant representative. For more information read our blog 'How to Manage Commercial Leasing Agents'
Design Risks
Limited input from designers means a solution must be "shoe-horned" into the chosen property.

A functional and inspiring workplace design becomes compromised if design time is constricted.

If decisions and approvals are rushed, time to consider materials and products is inadequate, and choices become limited.
Construction Risks
Increased cost to procure, and as timelines shorten, an increased cost to deliver

As the occupancy date approaches the construction phase must wear the legacy of any previous delays. Costs escalate, and quality is compromised.
The Master Plan Approach

Property decisions should not be made in isolation of design and project management skills. You can exert control over the process with a workplace "Master Plan". A Master Plan is a risk management and decision-making tool which validates the business case, setting the briefing criteria and procurement strategy for workplace projects and corporate real estate initiatives.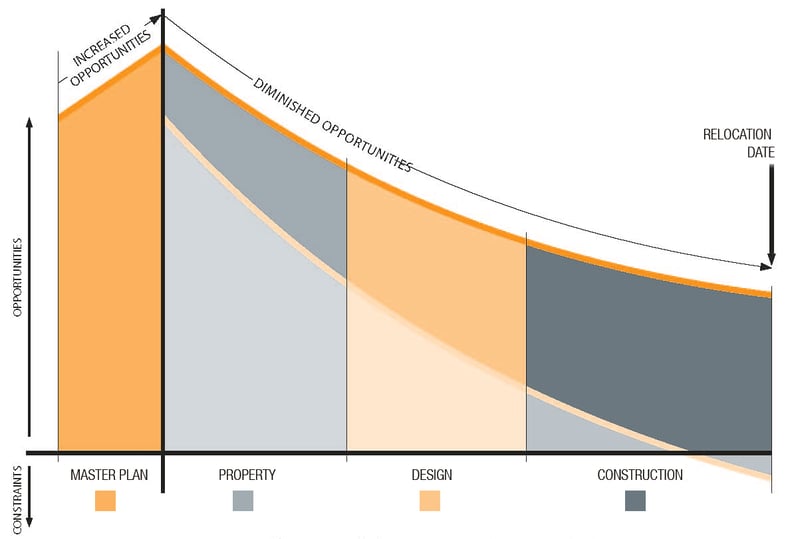 As the graph above indicates, by taking the Master Plan approach you will have more time for each stage of the process, especially the construction stage, resulting in fewer roadblocks resulting in timelines and budgets being adhered to.
The Master Plan approach uses key stakeholder interviews and surveys to determine your company's performance gaps, then using that information to formulate a strategy to ensure your new workplace meets all your business and employee needs. A typical Master Plan will include:
Organisational needs

Needs analysis

Property strategy

Budget formulation

Implementation strategy
The Master Plan approach not only ensures staff needs and wants are catered for it also helps save costs.
The following example is for a 10-year lease commitment within an A or premium grade property and a new fitout of 3000m2 in either Sydney, Melbourne or Brisbane: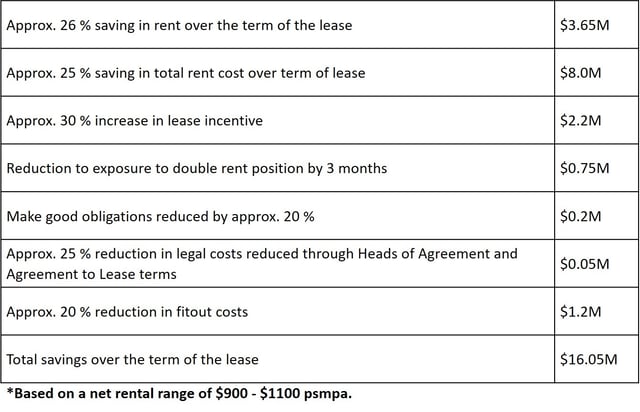 Many businesses set out to achieve a perfect fit workplace but have a limited understanding of the time it takes to affect the right plan, and the way that time and cost pressures conspire to limit the scope of the opportunity.

Critically a Master Plan ensures you go to market with a credible brief with adequate time to avoid the risk of being dictated to. In effect the Master Plan is about capturing opportunity and value for money.
If you would like any further information or would like a better understanding on how we can help with your lease negotiations, office design and construction please don't hesitate to contact our Managing Director, Simon Gunnis for a free no obligation discussion.
For more information on Master Planning, please download our free brochure.
You May Also Like: