'Author Douglas Adams pointed out that no language on Earth has ever produced the phrase, "as pretty as an airport", but could the 'co-worker' movement help change a small part of that?'
'The history of the airport lounge goes back to 1939 at LaGuardia airport, New York City. It was known as 'The Flagship Club' and was created by American Airlines to offer their most loyal travellers a privileged place to relax before their flight.'
'By the 90's frequent flyer programs had started to differentiate membership status based on mileage thresholds and flight segments flown. And pretty much most international airlines offered their premium or loyal travellers an enhanced airport experience.'
'Twenty years on increasing demands on the business traveller and rapid advances in technology give rise to a new breed of personalised, ultra-high-tech, yet relaxed airport lounge. One study from Professor Alan Woodward from the University of Surrey for Priority Pass, the world's largest independent provider of airport lounges, created a blueprint, for the 2030 Lounge of the Future. It features a highly interactive and personalised environment where business travellers can seamlessly integrate their business and personal lives into their journey, from lounge arrival to boarding the plane. Its vision includes intelligent 'virtual' work stations where travellers can access their personal desktops using just their mobile phone, eclectic spaces built around personal 'pods' incorporating facilities for both working and resting and even dedicated spaces for exercising to create a versatile 'work/life' experience.'
'The study predicted 'super-lounges' will become larger to cater for extra amenities such as work life pods, spas, and gyms; systems that will recognise the traveller's identity and provide information and updates tailored to their specific travel itinerary through their mobile; noise cancelling technologies will keep the lounge peaceful and block noise from the busy airport outside; and the range of food and drink available will be much wider than today.'
Whilst the airport lounge of the future sounds great, is it really another 13 years from becoming a reality? If co-working offices now offer 24/7 access, the latest technology, catered food, and drinks, including alcohol, gyms and a beautifully designed space that offers both quiet areas and areas for open collaboration, surely airport lounges are on the same track?
But as Leesman points out 'Airport lounges are at their best when they are new (or exceedingly well kept) and when they are less than half empty. And the same could end up being true of co-worker spaces. Some co-worker spaces push the sense of community spirited social enterprise, some exude outstanding hospitality, some secretly filter members through teenage den design while some operate exclusive private members club style waiting lists. But both rely on take-up never actually matching the number of members. Both airport lounges and co-worker spaces are then in the business of 'real estate as a service'. And they will undoubtedly respond to market demand.'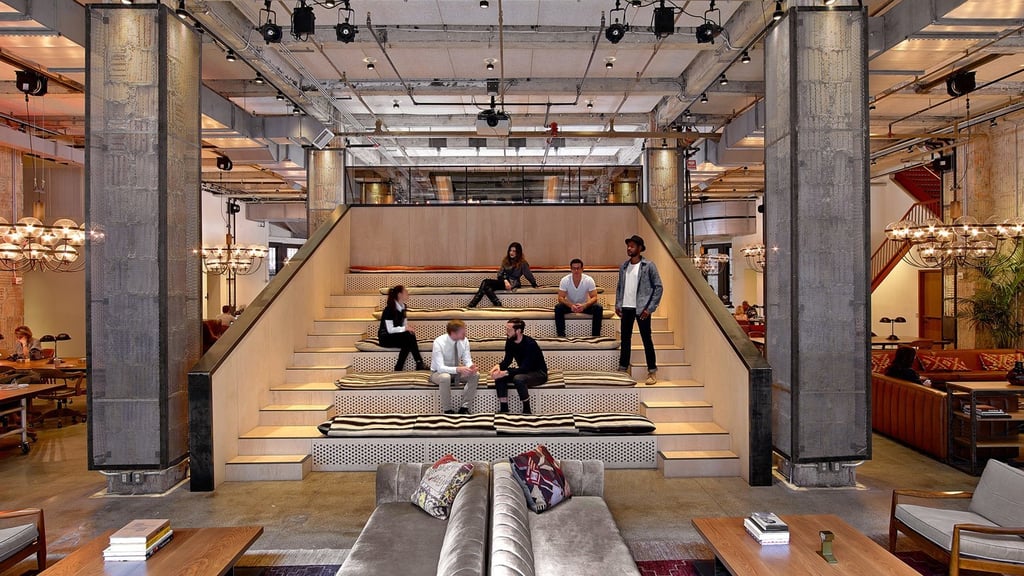 NeueHouse, NY
Leesman goes on to make a great point – why would any young person go from working at spaces such as NeueHouse in New York or The Shard in London to a conventional corporate office cubicle? Co-working spaces are said to allow autonomy but at the same time give a feeling of being part of a community. One of the largest co-working space providers, WeWork, emphasises how it 'seek[s] to create a place you join as an individual, 'me', but where you become part of a greater 'we'.' The time of the mobile worker is here and is likely to carry on for future generations.
While co-working space providers have changed the commercial real estate market and brought a new way to access something that has been around a long time – (office space), perhaps airport lounges need to take a fresh new look at what they're offering and provide innovative ways to attract and retain customers.
The Shard, London
You May Also Like:
Acknowledgements:
Philip Vanhoutte, October 2016, 'Lounging around the office,' Leesman, viewed 10 August 2017, <http://www.leesmanindex.com/lounging-around-the-office/>
Gretchen Spreitzer, Peter Bacevice and Lyndon Garrett, September 2015, 'Why People Thrive in Coworking Spaces' Harvard Business Review, viewed 10 August 2017, <https://hbr.org/2015/05/why-people-thrive-in-co-working-spaces>