With the typology of the workplace changing, how do we maintain a brand and company culture while remaining flexible and current?
Recently our designers had the opportunity to attend Worklife 2017, where global design leaders shared their knowledge and experience on key industry issues. One of the seminars, 'Mobile Working is the new agile: How to design for an 'out of office' workforce,' was a clear standout.
The burning question was; Will the workstation become redundant? And if so what does this mean for the future typography of the workplace?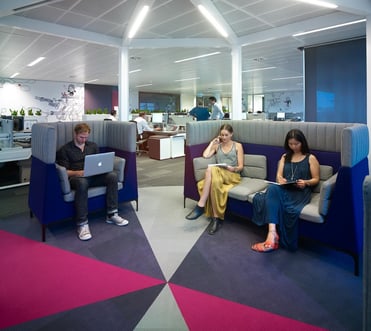 The workplace is evolving into everyday life, no longer bound by power chords and neatly lined rows of workstations. With thanks to technology, we can now work anytime, anywhere affording a huge amount of autonomy and flexibility – but how do we harness this cultural change in a positive way?
The majority of workplaces are now trending toward a society whereby we are untethered from our desks. The office design at large has shifted dramatically to allow for these extensive cultural changes. Not only has the look and feel of the office transformed but so too has the mindset of its users. Highly collaborative and social spaces have taken priority with office design reflecting a more casual, almost 'residential' look and feel or 'home away from home.'
With more and more people working from home – in cafes, airports, parks - the flexibility of the workforce questions whether the office will become obsolete.
The Panels definitive response was no.
The office plays an integral role within a business not only acting as a facilitator to represent the company and align with its brand but enhancing the client experience.
But with this shift in office design and ways for employees to work, comes a new set of challenges for workplace designers and employers.
There is currently a discrepancy between health and comfort in terms of design. With a multitude of areas to work, are employees using these spaces correctly from an ergonomic point of view? In a few years', we will see an increase in sick leave because employees haven't been sitting correctly for long periods of time and have caused themselves an injury.

With advancements in technology staff are available 24/7 which doesn't encourage a work life balance. Employers will need to ensure staff are taking the necessary steps to 'switch off' and maintain a healthy balance between work and home.

Remote working can deprive staff of interaction and opportunities to discuss ideas and collaborate with colleagues. The ability to bring staff together helps build a positive workplace culture which in turn will lead to improved engagement and increased productivity.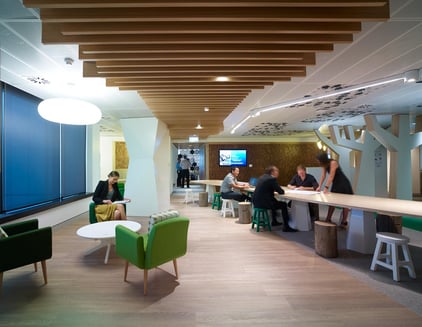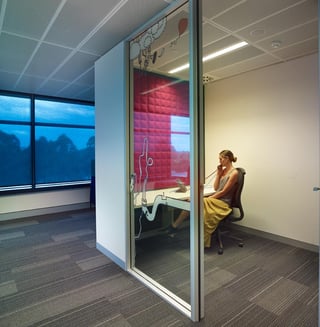 While each individual workplace has its own needs and requirements the overall direction of workplace design will comprise a mix of collaborative areas and quiet spaces that meet the needs of all employee work styles, not just the agile worker. By integrating a variety of spaces, companies will undoubtedly realise a more productive and contented workforce.
To read more about collaboration and design download our free whitepaper, Communication through Workspace Design.
You May Also Like