Do you want the finest staff working at your organisation? Creative jump-starters who are natural collaborators, highly qualified and intrinsically motivated. Well, unsurprisingly you can have a direct impact on how your staff perform once hired, but it's not pay, benefits or health insurance that are giving the extra productivity kick. Research has uncovered a link between how employers prioritise their workplace and the aspirations and results of staff who work there. Yet, how many organisations are seriously considering workplace performance, employee engagement and employee productivity when designing their office space?
The Missing Link in Interior Office Design
Few companies would admit to skimping on leadership, integrity or teamwork. But equally few give priority to these values when it comes to creating a workplace that reflects them. By 'workplace' we at PCG mean the physical environment that supports the workplace dynamics of people, process and place.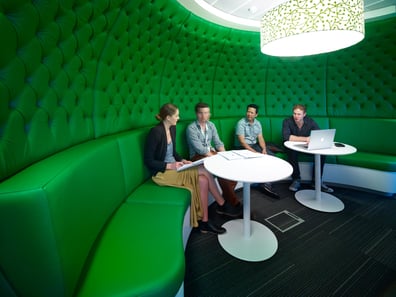 So what is it that sets leading organisations apart when it comes to innovative workplaces?
In a recent independent study, we found that leading organisations (by which we mean the market leaders in their field) consistently ranked
Collaboration
Innovation
Socialising
up to three times higher than 'average' companies when prioritising the success of their last workplace project. Conversely, when average companies were asked to measure the success of their last project; aspirations were frequently set aside and measures of cost, time and rent were given priority.
This is an interesting link because it highlights the intrinsic value leading companies give to the workplace. They respect that where you work influences how you work. Of course it's a chicken and egg situation – the more successful you are, the more you can afford to concentrate on workplace innovation and the more you can expect to reap from your staff.
But the opposite needn't be true. Inspired workplaces are not about spending pots of money. They're about changing attitudes to the importance of how people work – and making sure your workplace genuinely reflects and enables that attitude.
Below are three key points to consider when creating a genuinely inspiring workplace.
1. The workplace should be a physical manifestation of the contract between the employer and employee and what you are endeavouring to achieving together.
Look at the photographs below. These companies command energy and innovation and that expectation is reflected wherever you gaze.
Imagine walking into these spaces every day. The reception states the professionalism and order of the environment.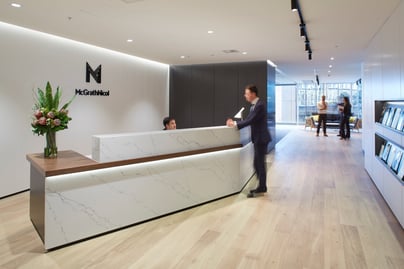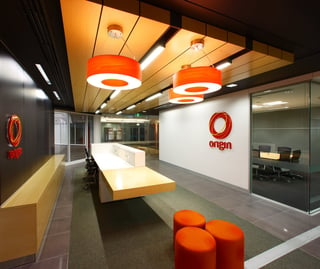 The meeting space is positioned so people collaborate and share ideas whilst not interrupting the thinking that's going on in the more secluded work hubs.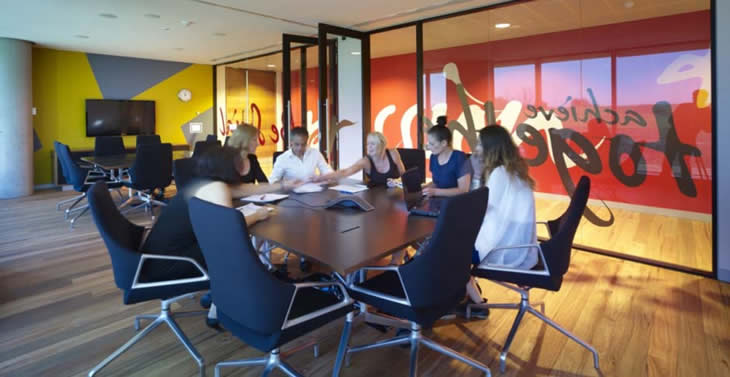 But just as importantly, the clean lines and impeccable design spells business. You wouldn't dream of producing sub-standard work here – and you wouldn't dare have a mundane thought. This is an example of design in action.
2. The workplace should strongly reinforce the brand, values and ethics of the organisation and its products or services.
OK, nice idea – but how do you actually do this?
Naturally these qualities will be not exclusive to each company, but let's look at how we might reinforce the values of openness, honesty and transparency:
Openness – There is nothing more disheartening to employees that excessive closed-door meetings. Either you're being excluded from something important; or you're being discussed. This is going to happen from time to time but there's no need to make it a company value. Open the space up – speak discretely only when you need to – and create an atmosphere of openness.
Honesty – This is largely reinforced by behaviour but it can be manifested in the workplace, particularly when you're going through a re-design. Choose sustainable materials and environmentally sustainable design strategies like chilled beam air-conditioning and light harvesting. And be proud of these choices – show your employees you're willing to act and your values aren't just empty words.
Transparency – A great way of reinforcing this is demonstrating the organisation has 'nothing to hide'. Think of the great chefs that proudly cook in full view. Design your workplace so that upon entering, visitors have sightlines beyond reception and through the workplace. You are proud of your people - show off your staff and what they are achieving.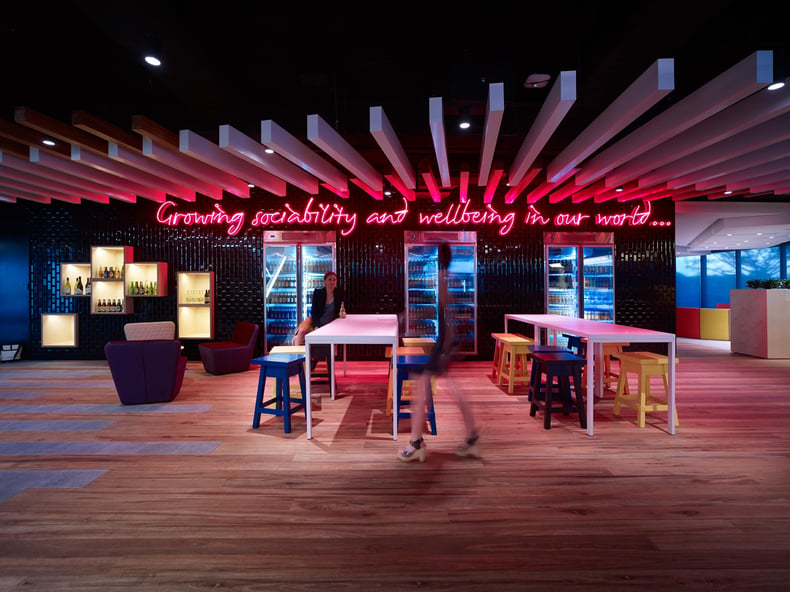 Lion, who's brand misison is 'growing sociability and wellbeing in our world' do this by having a visual reminder within one of the many breakout areas staff can choose from for downtime, collaboration, individual working or socialising.
3. The workplace can enable innovation and productivity.
Leading organisations in our research were deeply aware that a respect for how and where their employees worked correlated with how their employees actually performed. Think back to the first photographs. Workspace design should work hard for your organisation. In one sense this means placing innovation where people visualise, brainstorm and think; but also consider the whole building. In the architectural realm… architecture is art – the whole built environment should be designed to inspire. Something as simple as natural light can boost serotonin levels and help people feel more alert.
But think also about how people naturally connect. Interaction occurs wherever the space permits contact – the act of meeting someone ascending or descending the stairs is a catalyst for conversation. Better still, if there's a meeting place at the bottom of a central staircase, you're going to actively encourage new meetings, shared ideas and collaboration.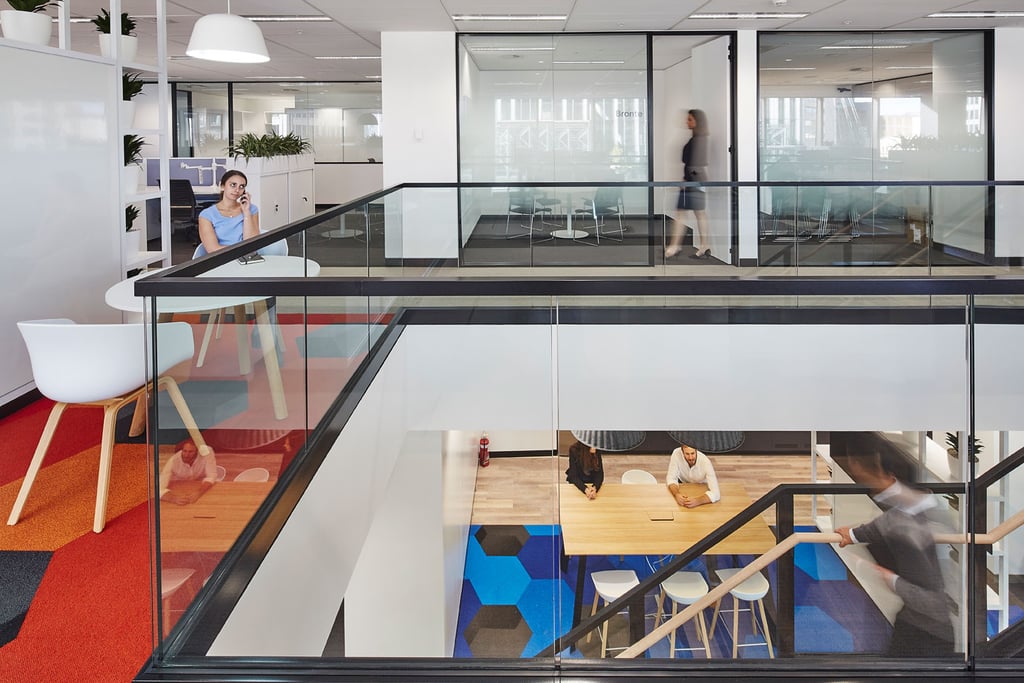 You may even get it between people who would not have otherwise met, and without going all Hollywood on you – that's how a breeding ground for original and unexpected ideas is created.
The ongoing challenge is to remain open and embrace this natural evolution. In creating your new office design, your organisation will end up in one of three results upon concluding your workplace project. Without planning and consideration of environmental impacts you may end up with a "feels different but looks the same" or "looks different but feels the same" result.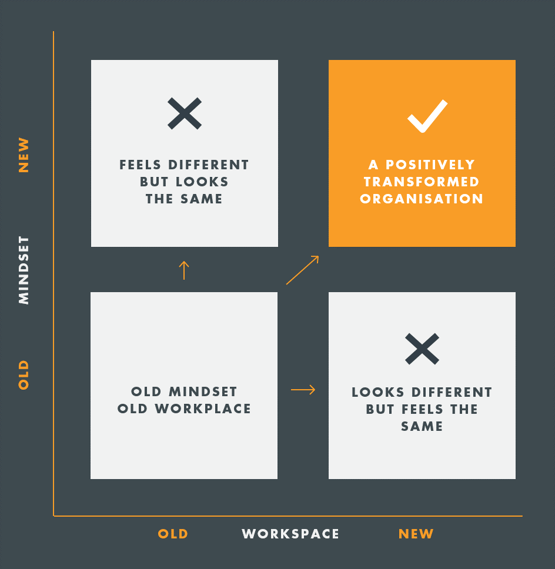 However, with regular business assessment, review of your office lease, space planning and then implementation of strategies designed to assist your organisation shift with the changing dynamics, you will be best able to take advantage of the financial and cultural benefits available from having a truly innovative workplace and a transformed organisation.
Download our whitepaper Your Road Map to a High Performance Workplace to find out how to incorporate the Big 3 into your workplace and get your workplace on the right track.