The Brief:
Pfizer Australia has enjoyed considerable organic and acquisitive growth in personnel over the last 10 years resulting in the need for a strategy to unlock additional accommodation within their existing workplace without compromising the standard of accommodation.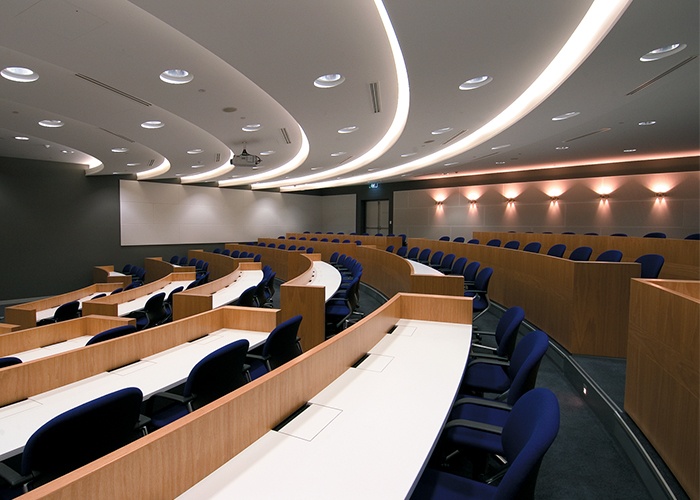 The Strategy/Solution:
PCG and Pfizer Australia concluded the most appropriate strategy to unlock additional space was to extract from the existing accommodation mix all facilities associated with meetings and training and create a dedicated facility within close proximity enabling the reallocation of space within the existing workplace back to office accommodation.
This strategy, in addition to delivering the additional space, provided the opportunity for Pfizer to create a purpose-built facility which would effectively 'catch-up to and meet' the demand for improved learning and conference facilities within the organisation.
The project resulted in the creation of a two level 3,500m2 special purpose learning and conference facility, comprising a 133-seat lecture theatre, fixed and flexible training rooms, 165 seat dining area, full commercial kitchen and external break out space comprising BBQ areas and tennis courts.
The inherent quality and extent of amenity provided by this project further reinforces the Pfizer brand and culture which is grounded on research and continuing education and further supports the vision of a leading edge, people friendly healthcare company.
Our new $18m Learning and Conference Centre at West Ryde was from the outset designed to enable us to fulfil our commitment to developing Pfizer colleagues here in Australia. It was designed to strengthen our employee development. This commitment to a learning culture is part of our innovation message, which is a key message in our corporate branding. Its design and fit-out make a statement that learning, and innovation is part of Pfizer Australia being a dynamic, growing company. The Centre was designed and project-managed by Project Control Group Pty Ltd, an Australian company, also known for their fresh approach to design and construction. This mix of new ideas complements our Australian heritage that dates back 150 years. The new building combines open space for large staff gatherings, as well as smaller rooms fitted out with the latest audiovisual technology to allow the most up-to-date practices in learning techniques to be utilised. The Centre has a 133-seat lecture theatre, with interactive computer points at every workstation so colleagues can plug in their laptops and down load presentations as they are being shown. At Pfizer Australia, we have a strong value of community. For example, our staff, through company support and sponsorship, are involved in many local community partnerships and undertake voluntary work in work time. As an extension of our commitment to the community, we have made the new Learning and Conference Centre available to local community groups to utilise for their meetings and events. The look and feel of the facility follows an extensive consultation process with Pfizer staff so they have ownership of the building and its' purpose. We've even incorporated a time capsule at the request of staff that will remain sealed until 2049. In keeping with our theme of innovation, we named the Centre after the great Australian scientist and innovator, Lord Florey whose work in enabling penicillin to be massed produced must rank as one of the greatest innovations of our time. In summary, Pfizer Australia is on a quest to be the most valued healthcare company in Australia; our commitment to learning through our investment in the new Learning and Conference Centre underscores that ideal."

John Young, Pfizer Australia