The Brief: Engaged by NTI as their national tenant representatives, most recently procuring and designing their new Brisbane office, PCG were aware of the upcoming lease expiry in Sydney and the need to evaluate the options.
NTI had occupied their Sydney office since 2000, without major refurbishment, but as the operation had expanded, their current requirements now exceeded their current leasehold area.
Aware of the implications on the bottom line, NTI approached PCG for help in locating a suitable workplace and designing a new office that would alleviate the space pressure they were experiencing, and set them up for success to achieve the next stage of their strategic plan.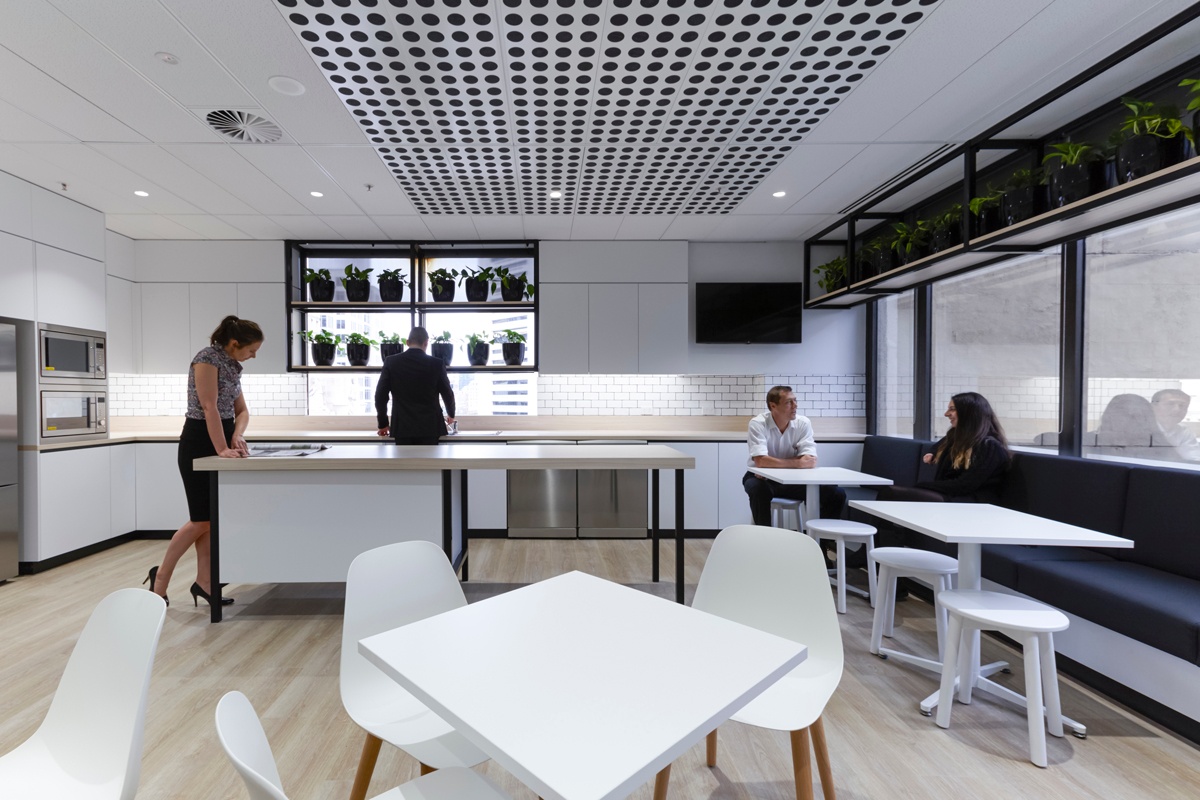 The Strategy/Solution: From our past work with NTI, PCG were already familiar with their business, culture and ethos. To ensure we were up to date, our team reconvened with the company's C-Suite in Brisbane to evaluate their requirements for their future Sydney workplace.
Unsurprisingly, cost and space availability were key decision factors. Additional considerations were that the new space needed to support their culture and bring their Sydney office into line with their recently branded office in Brisbane.
Other issues which PCG were instructed to address included:
The current layout didn't provide adjacencies between work areas, meeting rooms and utilities
There was a shortage of collaboration and informal meeting space
Under-utilisation of kitchen facilities due to a lack of seating space and amenity
Concerns regarding security of reception zone
With discussions and planning well underway, our tenant representatives were clear on the required outcomes when they went to market. Directly engaging with the various commercial real estate agents and landlords throughout Sydney, PCG used NTI's search criteria to whittle down the possible properties to a short list. Site inspections were organised and it was quickly apparent that there were two properties that had potential to be the new NTI office.
PCG began the extensive process of negotiations and pre-lease due diligence on both prospective properties concurrently. Creating competitive tension between the two potential landlords placed NTI in a stronger position for negotiations. Whilst commercial lease terms were being negotiated via our tenant representation services, the design team completed test fitting, space planning and ultimate cost planning to establish which property would best match NTI's needs design wise.
The final decision was Level 10, 15 Castlereagh Street, Sydney. The lease was signed off, leaving sufficient time to design, and deliver the new workplace and ultimately relocate the organisation. The negotiation process allowed NTI to achieve significant savings over the length of their lease and thoroughly evaluate which building would best suit their needs. The selection allowed NTI to take a full floor tenancy provding the organisation with the privacy and control of the space they wanted. The floor plate with a side core allowed for a more efficient and free-flowing work space.
DESIGN: With a new location locked in, the design team stepped in, taking inspiration from the NTI brand and its commitment to staff and customers. From initial discussions with key personnel, their core values, reliability, care, respect, going the extra mile, staying close to the customer in their time of need, and creating a friendly and supportive environment, shone through.
The designers then translated these values into a physical setting. The open plan office environment supports the organisation's drive to be collaborative and transparent. Workpoints have low screen heights to facilitate openness and easy communication and variety of acoustically considered meeting rooms and quiet spaces are available to allow for concentration and focus, or more lively idea sessions. The inclusion of operable walls within meeting rooms allows them to be transformed into larger spaces as required.
NTI branding was carefully considered and subtly woven into the fabric of the workplace and front of house. The "Truck Stop" café filled with greenery, provides a quick restorative space for staff and can also serve as an impromptu meeting space. The truck stop theme is carried throughout the workplace in the form of mini road signs and environmental graphics of trucks and machinery, underlining the core business of the company, yet maintaining a professional setting.