The Brief: MYOB were making some big strategic decisions. They no longer wished to be perceived as a software house, and were repositioning themselves as a technology company. A key driver for MYOB approaching PCG was that they required assistance in leveraging the workplace to support their new market position. Committed to getting the best result for MYOB, PCG were engaged to provide end to end Corporate Real Estate, Interior Architecture, Project Management, and Construction Management services, for the development of their new National Headquarters in Sydney.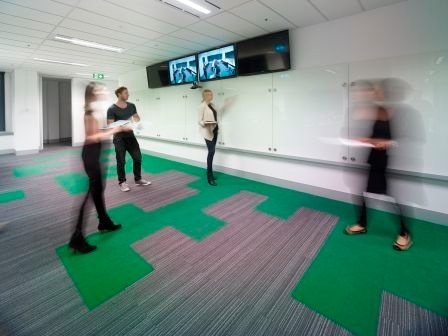 The Strategy/Solution: PCG conducted a Strategic Master Plan with key MYOB staff, resulting in the development of a Corporate Real Estate Strategy and property brief to guide the decision process. It was determined MYOB required a 1,200m2 CBD leasehold, that would allow the creation of an agile, contemporary and fun workplace, promoting the MYOB culture and brand strategy.
Initially, a warehouse type property, with large open spaces was considered. However, in recognition of the limitations a heritage listed property would place upon their flexibility and agility, a more traditional office space was selected. The preferred property was 45 Clarence Street.
The process of defining the workplace could then begin. MYOB were clear that the values they wanted their office to support were agility, flexibility and the MYOB tagline 'Love Your Work'. Based upon the briefings they had with stakeholders, PCG designers conceived a key innovation in the MYOB workplace, an 'Information Radiator'. This agile, stand up, meeting area with writeable walls and video conferencing technology, leverages collaboration in product development. The Information Radiator allows ideas to be shared across multiple sites, whilst the story wall allows for the recording and illustrations as the ideas evolve and progress, relative to objectives. The introduction of standing meetings to the process, encourages an urgent dynamic, focus on essential elements and for team members to provide their individual updates, rather than relay on project manager or facilitator.
A variety of meeting rooms, quiet rooms and collaboration spaces were installed to further support collaboration and meet the day to day requirements of the business as they arose. A large share table was ensconced in the main kitchen breakout to inspire casual lunchtime connections. Further relationships were established over a new pool table, as different departments found themselves socialising over a shared love of the game.
Throughout the building, the MYOB brand was incorporated into the design via bright colours, colourful graphics on glass meeting room walks, and inspirational artworks. This included a graffiti artist's interpretation of their tag line in the main office area.
Watch MYOB CEO Tim Reed speak about how their new workplace has positively improved their company culture, staff happiness and productivity.
"We found PCG's end to end service proposition very compelling and their property and project services outstanding. In particular we found the communication skills of their project manager, Kevin McCabe to be excellent and they should be very proud of their project and construction management capability."