The Brief
PCG was engaged by Lion to bring their Western Australian workplace in line with their national standard and in doing so consolidate their wine, beverage and drinks divisions into a new Perth leasehold workplace. Comprising approximately 100 employees PCG conducted a thorough needs analysis, developed a detailed strategic Master Plan, which Lion management approved and instructed PCG to implement via an integrated design and project management services solution.
Adopting the core values of "sociability and well-being" an established national workplace manifesto calling for "compelling places to work", PCG adopted the following seven overarching objectives for the new Perth workplace solution:
To stimulate passion and creativity
Be consistent with all Lion people and brands
Promote and enable increasingly flexible and mobile work styles
Support formal and informal communications
Afford flexibility for business growth and change
Act sustainably for the long term
Do not financially burden the business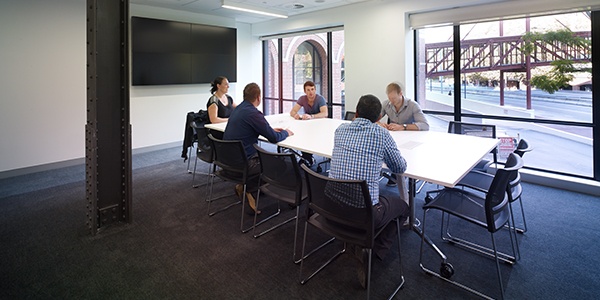 The Strategy/Solution
PCG participated in a property search and pre-lease due diligence on a refurbished leasehold commercial space which was formerly the Swan Brewery located at 173 Mounts Bay Road, Perth. The total leasehold area was approximately 1,300m2 which our design team divided into wellbeing (private work areas) and sociability (team work areas) which supported the aspirations for identity, agility, intimacy, innovation and collaboration. Drawing upon the heritage nature of the property and the Lion history in Western Australia, a very strong heritage theme was adopted utilising hundreds of heritage brewing items including equipment and bottles of beer dating back to the early 1800 hundreds. A workplace for over 100 employees has been created comprising open and enclosed accommodation and support facilities with alternate work settings to enable numerous new ways for the Lion team to work and connect with each other throughout their working day.