The Brief: Kirin Holding Company purchased Lion Nathan in 2009 merging them with their pre-established business National Foods. This included the integration of their 'Dairy & Drinks' and 'Beer, Wine & Soft Drinks' divisions. PCG were appointed to assist Lion in locating, designing and creating a new workplace to accommodate the newly-formed departments, comprising some 800 employees. The project was driven by Lion's integration program. It was critical that stage one, accommodation for their IT and Lion Business Services departments was complete in 6 months, due to expiring leases in their current workplaces. Stage two, the construction and fit out of the remaining departments, would overlap the stage one works, yet still be completed within a tight 5-month deadline.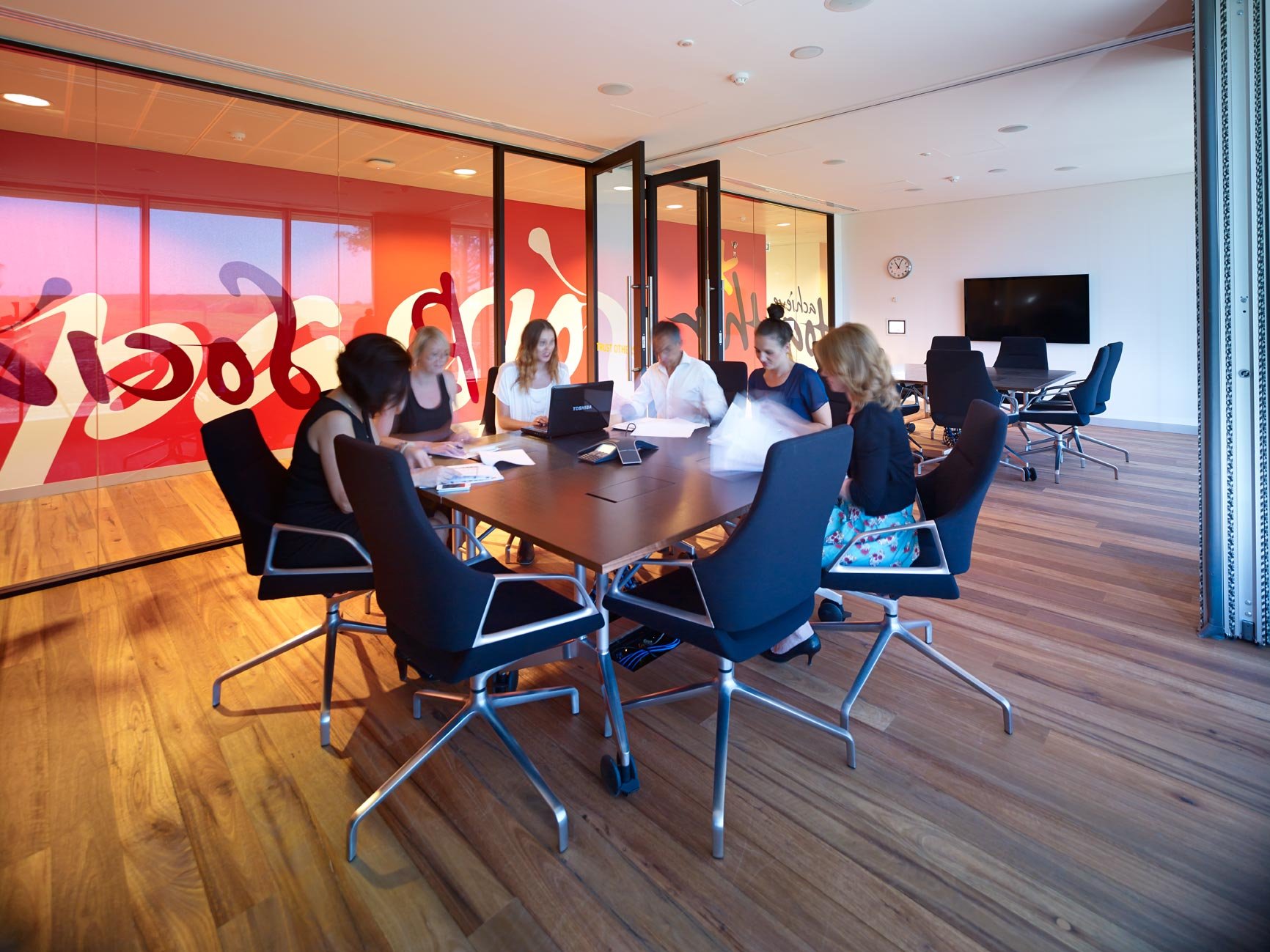 The Strategy/Solution: Lion and PCG previously worked together on their 68 York Street project, providing PCG with a firm foundation from which to start their plan in creating a "compelling place to work". The objective was a workplace that represented the Lion workplace manifesto with the following characteristics:
Agility – The ability to anticipate changing Lion business requirements and adapt quickly.
Intimacy – Workplace settings and planning that inspired a feeling of belonging, connection and well-being
Interaction – Leveraged connections through informal interaction and conversations
Innovation – Stimulate thinking, collaboration and knowledge transfer
Investment – Transfer workplace real estate from a fixed overhead cost to a profit driver, via greater productivity and lower staff turnover.
Identity – Be consistent with the Lion vision, values, people and brands. "Growing sociability and well-being in our world".
After reviewing several properties that met the Lion team's criteria, the project team settled on the recently completed GPT development, 5 Murray Rose Drive (affectionately known as 5MR). The 5 level building (approximately 12,440m2), provided a blank canvas upon which to freely interpret the Lion Workplace Manifesto.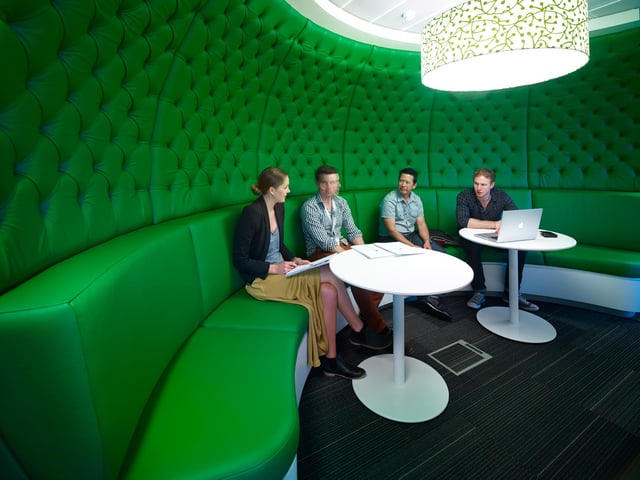 The ground floor accommodates Lion's reception and staff amenities, including staff bar, café, gymnasium, change rooms, masseuse rooms and training room. The selection of the amenities was carefully considered in line with the Lion philosophy of "growing sociability and well-being in our world", making life a more sociable experience, leaving people with a positive impression of Lion and themselves, embracing informality and encouraging face to face and social interaction, providing a welcoming and inspiring hub for clients and employees alike. When it came to the design for the bar, PCG demonstrated their commitment to the cause, visiting several bars with Lion, to identify the bar style that best partnered the brand. A preference for a "beer garden" feel, was a challenge for PCG, which was met head-on via a design that worked to bring the outside, inside.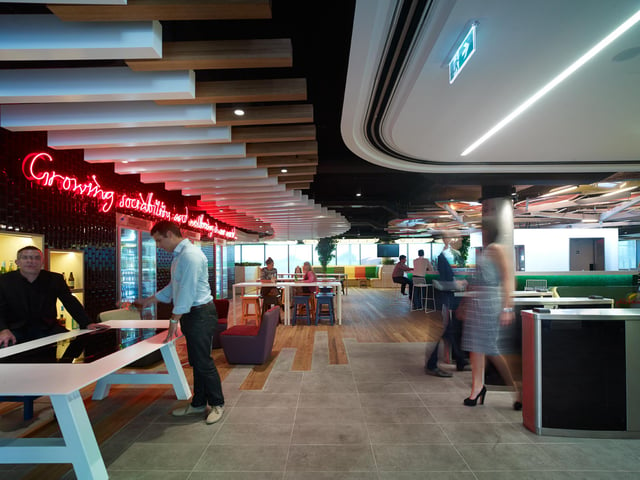 The upper four levels were transformed into modern, inspiring, workplaces with a focus on creating a compelling place to work. Each floor was differentiated by theming which supports the overarching philosophy of creating a more sociable place through the responsible consumption of the company's great brands. 'The Park", "The Backyard", "The Beach" and "The Vineyard", all iconic Australian environments were taken as inspiration, with creative elements woven through the design to give each floor a distinctive identity and feel.
Within each floor a variety of different workspaces were set up to facilitate a shift from a traditional or fixed environment to a hybrid ABW environment. Future-proofing their work environment, the design allows Lion to transition to a full ABW workplace, down the track if they choose. Workstations, multi-purpose huddle areas, and a variety of meeting rooms and quiet rooms were created to facilitate free movement, collaboration and communication, as required by staff on a day to day basis.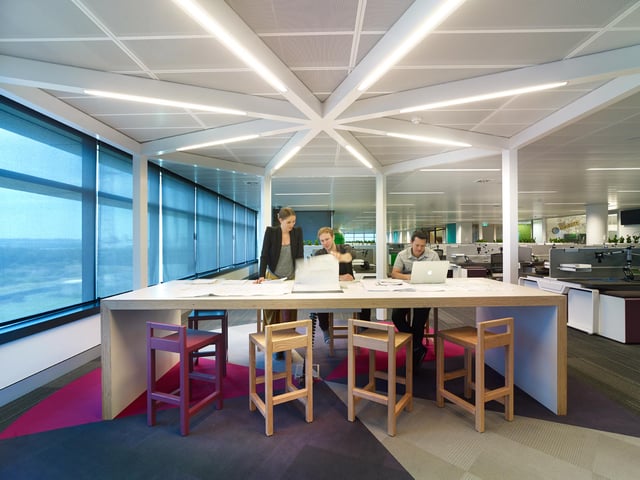 New technology was key in promoting flexible and mobile workstyles in agile work environment. Raised access floors provided greater flexibility to accommodate Lion's changing business needs and the investment in technology enabled meetings to occur anywhere in the workplace.
Technology usage extended to sustainability, with PCG adopting a best practice policy, building on initiatives developed for the base building. This includes solar roof panels that produce 25% of the base building's energy requirements, and chilled beam thermal control, in place of traditional air-conditioning.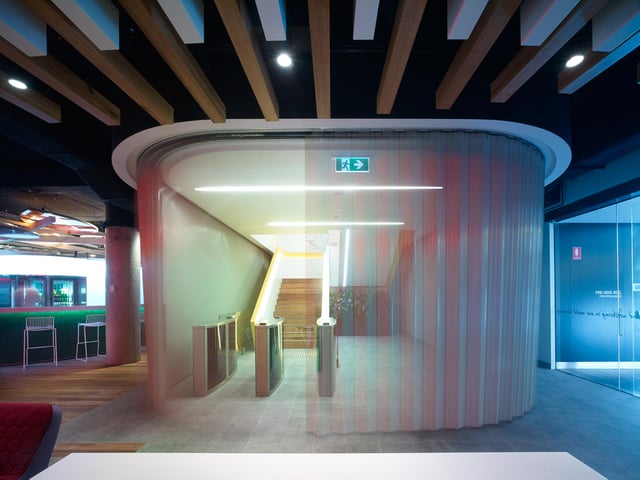 All of these new elements combined to improve the Lion ROI through:
| | |
| --- | --- |
| · Increased efficiency of real estate | · Customer satisfaction and responsiveness |
| · Cost saving and operational efficiency | · Organisational agility |
| · Sustainability and carbon reduction | · Competitive advantage and differentiation |
| · Brand awareness | · Attraction and retention of staff |
| · Improved disaster recovery and contingency planning | |
The Lion project at 5 Murray Rose Place won the MBA Excellence in Construction Award for 2013 and was runner up in the 2013 Property Council Innovation and Excellence Awards for the Best Workplace Project.
"The Sydney Olympic Park project has been so successful that it has set a benchmark for our other projects and our NZ team are about to move into a kiwi version of this building. PCG did an excellent job, working to a fixed budget, which we came in under. They delivered a work space we are all very proud of. We wanted the experience of inviting a customer or a supplier to Sydney Olympic Park to be akin to inviting someone to our home. It's an environment that showcases Lion's brands and values, and that was the brief to PCG. It was also vital that the office encouraged collaboration and team work, and became a part of our employee value proposition. With PCG's guidance, we have achieved that."
Jamie Tomlinson, Chief Financial Officer