THE BRIEF
As was the case for Hanson, change perpetuates change. When the Parramatta office were informed by their landlord of the intention to refurbish their building, it was the perfect opportunity to review their current accommodation strategy. Hanson requested PCG complete a full needs analysis on their property options, and the implications of a Stay vs Go decision.
Interviews with key stakeholders, stakeholder questionnaires, an appraisal of the existing location, review of the current lease terms and assessment of similar markets including North Ryde, Macquarie Park, Sydney Olympic Park and Rhodes were all part of the assessment of Hanson's present, and future accommodation needs.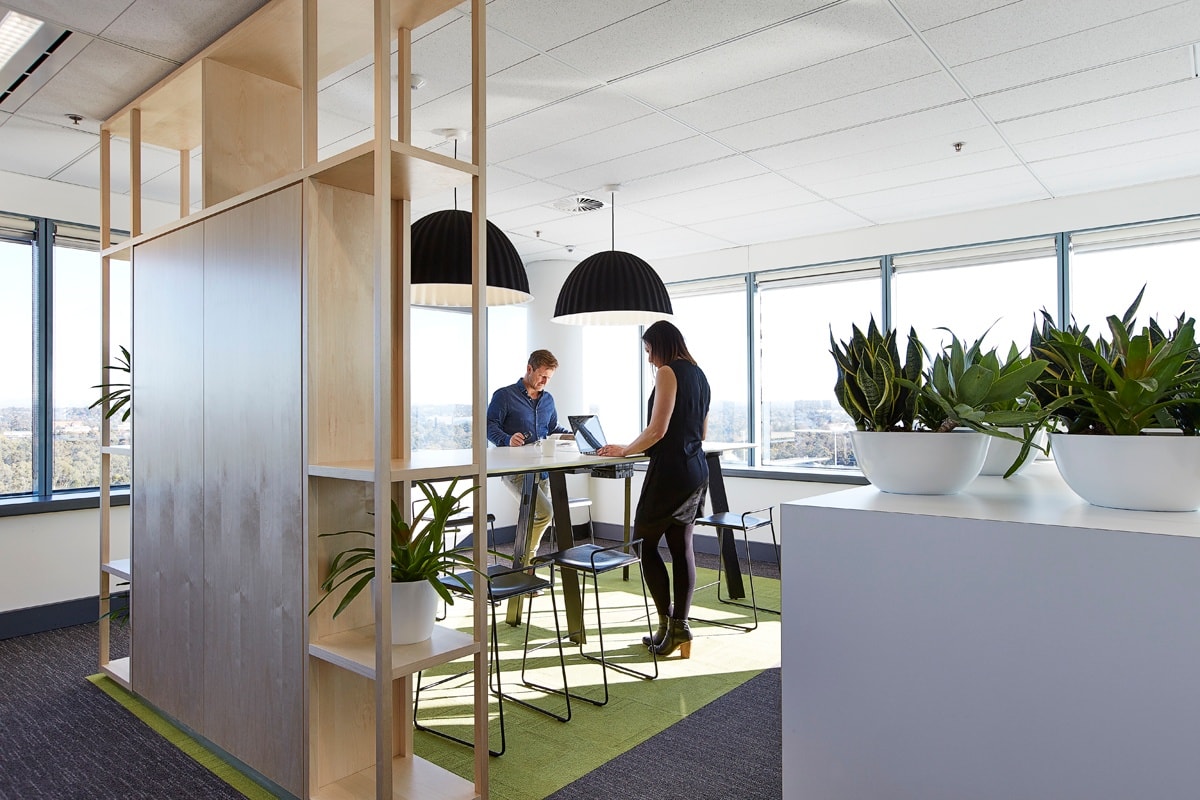 The Strategy/Solution:
When the results were reviewed, it was clear the current location was not suitable to drive Hanson's vision for organisational and cultural change, and provide a high, performance work environment. Presently, Hanson were located on a single floor, yet the sectioning of the company into a south and north wing, prevented them from having a sense of cohesion and connectivity. At a design level, the workplace did not represent the Hanson brand, or values as a professional, global market leader. This was particularly evident in the meeting rooms, which lacked the technology and flexibility the business required. Perimeter offices with frosted glazed windows prevented natural light reaching the workstations located in the centre of the floor, and high workstation screens contributed to the darkness and created departmental silos.
PCG went to market seeking accommodation that would provide a level of flexibility, such that the facilities and design of a new workplace could support Hanson in obtaining their future accommodation objectives. They were:
A workplace that would communicate an image of friendly customer service, knowledge/expertise and efficient services, reflecting Hanson's brand.
An environment that was modern and contemporary, essentially 'a great place to work' that supported a transformation of their organisation's culture.
A safe work environment that had environmental design initiatives and reflected Hanson's commitment to these areas.
The ability to stimulate interaction and collaboration between teams and staff by keeping the space planning simple. Meeting rooms could be centralised and easy to access from all points on the floor. Required offices would be located away from perimeter windows to allow accessibility to natural light.
Flexibility that could accommodate changing business needs (including appropriate technologies) and allows for multi-functional places, such as training rooms which can also be utilised as meeting rooms or quiet rooms as required.
Large "town hall / breakout areas" that would unite all staff with access to wi-fi and leverage the connections that occur through informal interactions, and conversations in open plan workspaces.
An 1850m2 solution was found at 12 Macquarie Street, Parramatta.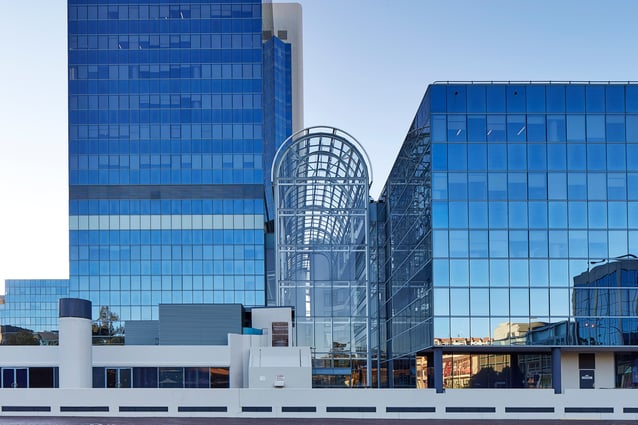 When creating the initial concept for Hanson's office design, inspiration was taken from Hanson's contribution to the community, "Hanson concrete helps build the cities we live in". PCG's design concept brought the elements that define a city (Gateway, Business Hub, Laneways, Village Green & Outdoor Pavillion) and interpreted them into a physical design for the workplace.
The reception was created to represent an entry point to a city and form a sense of arrival. Cues were taken from the sensation of crossing a gateway bridge with repetition of lines. The physical presence of the large, concrete reception desk references the Hanson brand, as do several oversized hero images of Hanson projects. Together they communicate a strong sense of arrival, a sense of professionalism, industry expertise, friendly customer service and efficient services.
The Business Hub was represented by the workstations and suite of formal meeting rooms. With an objective to improve functionality and flexibility, operable walls were used throughout to allow for medium sized meetings, larger training session or a town hall style gathering. Furniture was carefully considered to ensure flexibility, for example flip tables on castors can be conveniently rearranged or stored.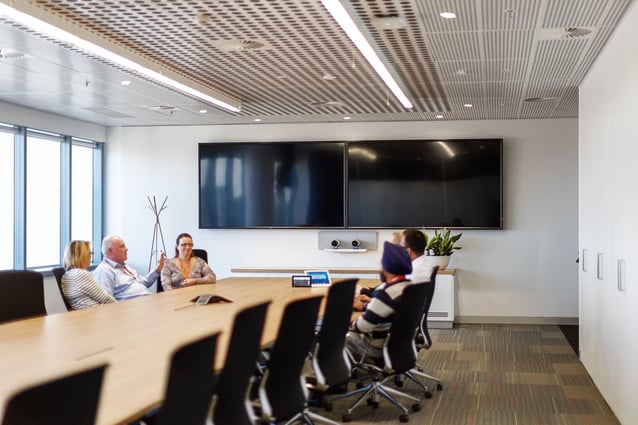 Comparatively, the 'outdoor pavilions' were designed within the workzones to breakup the workstations, and provide various spaces for informal meetings that would stimulate thinking, collaboration and knowledge transfer. Technology such as video conferencing and audio visual was included to allow for easy contact with colleagues within other Hanson locations. High benches gave the option of a sitting or standing meeting and full height patterned screens provided privacy and assisted with acoustics. The outdoor pavilions are surrounded by tree lined "avenues" in this case, pathways that allow for easy navigation throughout the office with greenery and planter boxes.
The Village Green of any city is an activity hub where people and families congregate, socialise and eat. As Hanson have a 'no eating at your desk' policy and strong family values, it was important that their new breakout areas and staff kitchen supported this. The kitchen has a casual, welcoming feel, similar to that of being at the home of a family member. A central concrete bench acts as a large gathering spot, and cosy booths allow people to sit down and relax in groups, or can be used as a casual meeting location. The design intentionally leverages the connections that are formed through informal interactions and conversations that occur in breakout areas.
Within the workplace, inbound/internal/central corridors connect one side of the floor to the other, referencing a city's laneways. Functioning as thoroughfares for access, they doubling as shared utility nooks/areas and lockable storage cupboards/areas, making optimum use of space.
The finished workplace, a mini-city in its own right, perfectly supported Hanson in attaining their values: Safety, high performance, sense of ownership and innovation.