The Client
When PCG Capital Management Ltd, as responsible entity for Nelson Bay Development Trust, successfully secured the development rights to AQUA Apartments, a tourism residential development located in Nelson Bay, NSW, it engaged Project Control Group (PCG) to provide project management and interior design services for the development.
PCG managed the lodgement of two Section 96 development applications which substantially improved the previous Development Approval for the site; repositioned the design elements of each apartment to reflect a more contemporary style and finish; prepared tender documentation suitable for tier 1 contractors, assessed tender applications, negotiated a design and construct contract; and supervised all on site construction activity whilst managing all construction payments. Reaching practical completion in June 2006, PCG's effective project management resulted in a development that was: delivered on time; exceeded quality expectations; and completed under budget. Variations on the $33 million contract were contained to less than 1% of the construction cost.
The Brief
AQUA Apartments was held within a special purpose unlisted development trust. It was imperative for this managed investment scheme to limit any development or construction cost escalation exposure to the trust and its unit holders. The Trust also needed to operate within very defined time periods for all design and construction activities to ensure that trust investors forecast return on investment could be maintained or improved.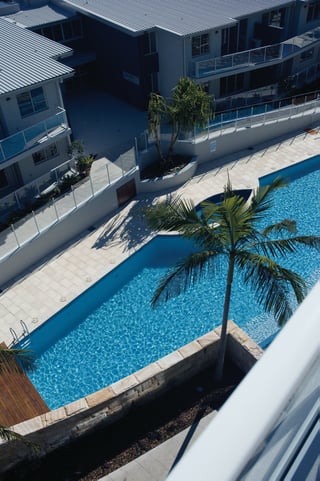 The Strategy/Solution
PCG produced a thorough and explicit specification that set time, cost and quality standards that formed part of the design and construct contract. This document, the 'Principal's Project Requirements', provided PCG Capital with certainty of outcome and minimised any contractual ambiguity or disputes.
PCG's project management personnel fully interrogated all construction programming and methodology provided by tenderers to ensure appropriate allowances and standards were met for all critical trades and activities on site.
After awarding the design and construct contract to Watpac NSW (formally Grant Constructions), PCG personnel closely monitored all construction activities to ensure that any direction, feedback or decisions required on site could be provided in a timely manner.
"Our association with PCG provides us with a management and delivery capability for our development projects that is second to none. The ability to engage PCG as our project partners means greater certainty of outcome for our investor clients and enables us to realise our vision - the creation of investment grade property assets. By involving PCG early in our due diligence we were able to very efficiently and thoroughly assess the feasibility and planning of our development projects - sort the wheat from the chaff - and move forward to secure the best available opportunities for our investor clients."
Luke Pollard, Chief Executive, PCG Capital