The Brief: With their lease expiring in July 2008, an opportunity arose to seek a larger property that would consolidate all staff under one roof & accommodate the projected rapid expansion of the company. 2nd Road saw a need to create a workplace with large 'Design' and conversation spaces that would support the 2nd Road methodology and was more conducive to innovative thought.
2nd Road engaged Project Control Group Pty Ltd (PCG) in November 2006 to prepare an Accommodation Master Plan to determine the strategy and design brief for their new workplace. The three main prerequisites of the new
premises were that the workplace:
Support strategic conversations and innovation;
Strengthen the brand to give a clear picture of who we are;
Protect intellectual property and provide confidentiality for clients".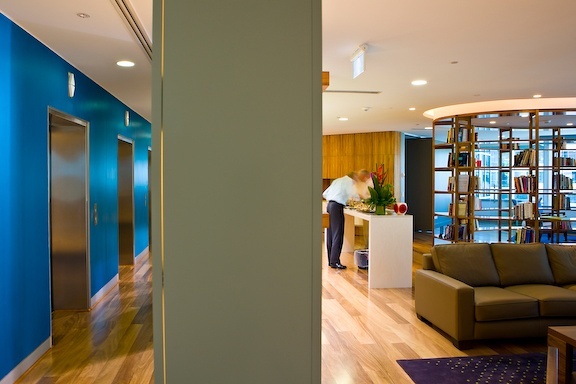 The Strategy/Solution: A detailed needs analysis was conducted by PCG to determine how we could develop a vibrant and functional workplace design that enabled support of 2nd Road's core philosophies, and encouraged creativity within the workplace, through effective utilization of the workplaces vertical and horizontal surfaces.
Our property and project team coordinated the preparation of the project Masterplan and then implemented the strategy to source and deliver a new leasehold workplace for our client. PCG liaised with the property market sourcing and identifying potential premises and conducting all lease negotiations on behalf of 2nd Road.
Having secured new leasehold premises which met the performance specifications of the Masterplan, the PCG design and project management team proceeded to develop and procure the new workplace in accordance with the predetermined time, cost and performance metrics outlined in the project Masterplan. The result is a very creative and high performance workplace which is enabling our client to realise and deliver their value proposition to their clients.
"The calibre of the PCG team members allocated to our project and their communication skills was in our opinion a particularly positive aspect of PCG's service. Responses were immediate and this was consistent throughout the project. Our needs, regardless of importance were dealt with in a very professional and responsive manner. Our new workplace says so much about the organisation we are and aspire to be. It is going to enable us to work more creatively with our clients and leverage successes which would have been impossible in our previous environment."

– 2nd road's directors, Anne Goldsby-smith